Auxiliary And Spare Parts
What Our Customers Have to Say
Llc Trans Business Logistics
Thank you for your support to our project. At the beginning of making the plan, the technical research and development team of Cowin patiently planned different plans for us to choose.During the production, keep us informed of the production progress.After the equipment was shipped to our factory, a professional team was dispatched to install and debug the equipment and train our staff.We are very grateful for this and look forward to our long-term cooperation next time.
Thanks for the hard work of Cowin team. Due to the large project, our company hopes to find suppliers with high cost performance and good quality in China.After the inspection of Cowin, we conveyed the design scheme to cowin. Thanks to the hard work of the design team for several months, the project can be carried out smoothly.After installation and debugging, the machine has met our expectations and we look forward to further cooperation in the future.



We received the machine on time. With the help of The After-sales team of COWIN, it has been installed and debugged and put into production, The performance and output of the machine are up to our requirements. Cross-border trade is not easy, but this cooperation has strengthened our interest to cooperate with Chinese manufacturers in the future. Despite the difficulties of the project, Cowin has a good attitude.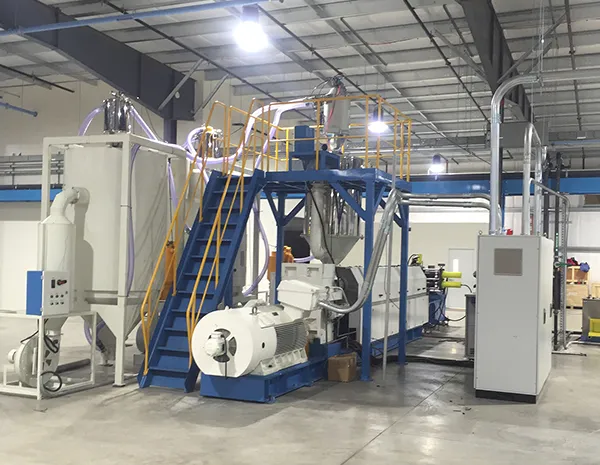 In the field of degradable materials, we are still new, but we are very interested in degradable materials, which is a global trend. COWIN friends provided us with the best services and solutions. Even if we had many questions and doubts, COWIN friends answered them one by one. Finally, we cooperated. Thank you very much for this cooperation. This is our first production of degradable materials. I believe we will have more cooperation with you for degradable materials in the future.
Extensive Experience in Applications
The main target markets for biodegradable plastic are plastic packaging film, agricultural film, disposable plastic bags and disposable plastic tableware.




The color masterbatch is composed of three basic elements: pigment or dye, carrier and additive. It is an aggregate made by super-constant pigment uniformly attached to the resin, which can be called pigment concentration.


Compared with general plastics, engineering plastics can meet higher requirements in mechanical properties, durability, corrosion resistance, heat resistance and other aspects, and it is more convenient to process and can replace metal materials.
Filling masterbatch can be used to process plastic films, garbage bags, shopping bags, vest bags, packaging bags, etc. It has good dispersibility, blown film has no white spots and black spots, high fineness to guarantees product gloss and toughness.


Long-fiber Reinforced Thermoplastic(LFRT),the length of the glass fiber is bigger than 3mm.while the commercialized LFRT is normally 6-25mm.




Non-crystallization dry pet sheet extrusion has following advantage: Use in producing PET / PLA sheets , no need pre-drying crystallization of the energy consumption and adapt to the material for the production of the second , high yield , low energy consumption, high quality plastics characteristics.
AUXILIARY AND SPARE PARTS FOR SALE PLEASE CONTACT US NOW
AUXILIARY AND SPARE PARTS INQUIRE