Polylactic acid (PLA) is a new type of biodegradable material, which belongs to the polyester family. Polylactic acid (PLA) is a polymer derived from lactic acid as the main raw material. The raw material source is sufficient and renewable, mainly using corn, cassava and other raw materials. Poly (lactic acid) has no pollution in the production process, and the product can be biodegradable to achieve circulation in nature. Therefore, it is an ideal green polymer material, and also a high-tech environmental protection product encouraged by the state. It is an important alternative material to solve the problem of white pollution. And in the fast-food box, express bag, tableware, shopping bag, moisturizing film, insulation box and other medical health, home textile fields have great potential.
At present, as an environment-friendly biodegradable material, polylactic acid has a good application prospect and the global production capacity is increasing. According to the statistics of the European bioplastics Association, in 2019, the global production capacity of polylactic acid was about 271300 tons; In 2020, the production capacity will increase to 394800 tons. Food packaging, disposable tableware (including cups, plates, knives and forks) and plastic bags are the largest user market of biodegradable plastics.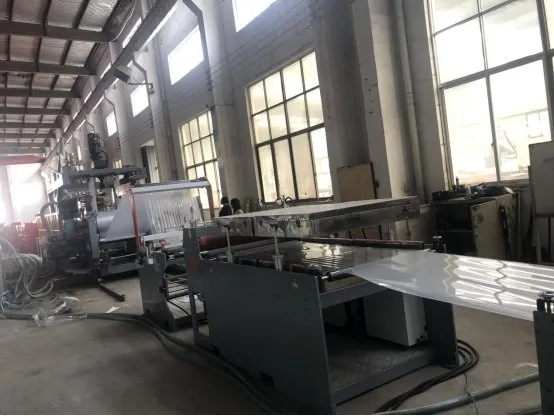 The PLA degradable sheet production line developed by COWIN EXTRUSION is mainly used to produce degradable cups, fast food boxes, etc.
Process flow of PLA degradable sheet production line:
The PLA material is transported to the twin-screw extruder by the feeding machine. After melting and plasticizing, the raw material is pressurized by the melt pump to screen change filtration and extruded through the die. The melt is evenly distributed, compounded and quantitatively stabilized in the die head. The three roller calender is used for calendaring, cooling and setting device, edge cutting device, silicone oil coating device and oven, and then transmitted to the automatic winding device by the traction roller.
Basic parameters of PLA sheet production line:
| | |
| --- | --- |
| Model | PLA sheet parallel twin screw extrusion production line |
| Raw material | PLA/Corn starch |
| Product structure | Single layer PLA or corn starch degradable sheet |
| Product width | 700-1000mm |
| Product thickness | 0.2-1.5mm |
| Linear velocity | 5~15m |
| Output | 400~600kg/h |
Advantages of PLA sheet production line:
Equipment selection
PLA sheet production line usually adopts single screw extruder, which generally needs to be equipped with drying system, or vacuum exhaust twin-screw extruder can be used for direct extrusion molding. The production line adopts twin-screw extruder to realize the functions of conveying plasticization, mixing, shear dispersion, homogenization, exhaust devolatilization, pressure building extrusion and so on. In particular, it has high efficiency in the removal of crystal water in PLA materials. The specially designed exhaust port is free and unobstructed, so as to realize low-temperature extrusion and avoid the thermal degradation of PLA;
Strong vacuum exhaust system
Multi stage forced exhaust ensures that PLA materials will not be hydrolyzed and crystal point will not be generated during melting and plasticization. The special vacuum exhaust technology combined with roots pump and water ring pump is adopted to increase the air extraction, improve the vacuum degree and greatly reduce the viscosity reduction of PLA.
Intelligent control system
The whole machine is controlled by PLC, and the actual parameter setting, data operation, feedback, alarm and other functions are automated. The winding part adopts servo control, which is more accurate. It has speed synchronization function with the whole machine, making the winder more simple, convenient and safe.
Complete after-sales service system
Adhering to the concept of customer first and service first, COWIN EXTRUSION will provide lifelong technical support from equipment installation and commissioning to high-quality production of products.