China Professional Two Stage Extruder Manufacturer — COWIN EXTRUSION
The two stage extruder is a combination of two separate screws extruders and works in tandem. (The two stage extruder can also consist of two single-screw extruders).
COWIN EXTRUSION's two-stage extruder has good output stability, good plasticization quality, easy exhaust, and high production efficiency.
Two Stage Extruder For Sale
TSC series two stage compounding extruder consisted of two parts. The first stage is CHT co-rotating twin screw extruder, the second stage is CSE single screw extruder.
Combine the high speed and extensive mixing of twin screw processing and the low speed, low temperature, and low shear of single screw processing; Ideal for compounding of heat-sensitive and shear-sensitive materials PVC compounds for cable, shoe sole, transparent container, and medical applications EVA shield cable compounds; Carbon black masterbatches of PE, EVA, etc.
Main application:
(1) Carbon black masterbatch
(2) PVC cable, PVC transparent bottle and blood transfusion tube materials
(3) PE silicohydride crosslink cable material, hyperoxide crosslink cable material
(4) Wood-plastic blending material
(5) Processing for many kinds of heat-sensitive polymeride.
1. PE resins      2. anti-oxidants      3. material stock      4. loss-in-weight feeder       5. loss-in-weight feeder      6. twin screw extruder   
7. single screw extruder     8. eccentric cutter     9. centrifugal dewatering     10. fluidizing bed     11. storage silo    12. vacuum bagging 
What Our Customers Have to Say
Thanks for the hard work of Cowin team. Due to the large project, our company hopes to find suppliers with high cost performance and good quality in China.After the inspection of Cowin, we conveyed the design scheme to cowin. Thanks to the hard work of the design team for several months, the project can be carried out smoothly.After installation and debugging, the machine has met our expectations and we look forward to further cooperation in the future.



It's a great experience for cooperating with COWIN. The seller's attitude is good and delivery speed is fast. Most important, The quality has reached our expected effect. Look forward to our next cooperation, hope to get a preferential price next time.








We received the machine on time. With the help of The After-sales team of COWIN, it has been installed and debugged and put into production, The performance and output of the machine are up to our requirements. Cross-border trade is not easy, but this cooperation has strengthened our interest to cooperate with Chinese manufacturers in the future. Despite the difficulties of the project, Cowin has a good attitude.



Your machine is great and the service is nice. Every time we cooperate with you, we are happy. Even under the influence of COVID, when we urgently need parts, our production is not affected, because you have provided us with sufficient spare parts inventory and delivered goods quickly. We are very grateful. For us, time is money.





Two Stage Extruder Specifications
Model

Screw diameter (mm)

Screw speed (rpm/min)

Motor power (Kw)

Output (Kg/h)

TSC-52/120
CTH-52
51.4
500
45
100-300
CSE-120
120
85
30-37
TSC-52/150
CTH-52
51.4
600
55
200-500
CSE-150
150
85
37-45
TSC-65/150
CTH-65
62.4
500
90
200-500
CSE-150
150
85
37-45
TSC-65/180
CTH-65
62.4
600
110
400-800
CSE-180
180
85
45-55
TSC-75/180
CTH-75
71
500
132
400-800
CSE-180
180
85
45-55
TSC-75/200
CTH-75
71
600
160
700-1500
CSE-200
200
85
55-75
TSC-95/220
CTH-95
93
400
200
800-1600
CSE-220
220
85
75-90
Extensive Experience in Applications
The main target markets for biodegradable plastic are plastic packaging film, agricultural film, disposable plastic bags and disposable plastic tableware.




The color masterbatch is composed of three basic elements: pigment or dye, carrier and additive. It is an aggregate made by super-constant pigment uniformly attached to the resin, which can be called pigment concentration.


Compared with general plastics, engineering plastics can meet higher requirements in mechanical properties, durability, corrosion resistance, heat resistance and other aspects, and it is more convenient to process and can replace metal materials.
Filling masterbatch can be used to process plastic films, garbage bags, shopping bags, vest bags, packaging bags, etc. It has good dispersibility, blown film has no white spots and black spots, high fineness to guarantees product gloss and toughness.


Long-fiber Reinforced Thermoplastic(LFRT),the length of the glass fiber is bigger than 3mm.while the commercialized LFRT is normally 6-25mm.




Non-crystallization dry pet sheet extrusion has following advantage: Use in producing PET / PLA sheets , no need pre-drying crystallization of the energy consumption and adapt to the material for the production of the second , high yield , low energy consumption, high quality plastics characteristics.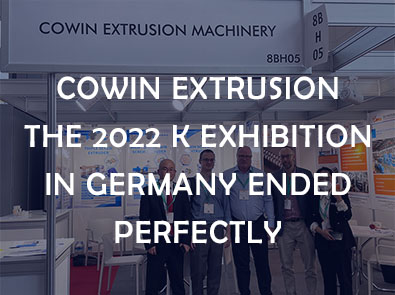 The International Plastics and Rubber Exhibition in Düsseldorf, Germany, the famous K exhibition in the industry, was held in 1952 and is held every three
Read More »
A: We are a factory. 20 years experience on extrusion. Leading supplier in Nanjing city.
A: 1 year, Main parts is made of high tool steel by special quenching treatment, with high corrosion resistance and wear resistance.
A:We can send engineers to your factory for installation and training if customers' required
A:Experienced mechanical designer customized-design provided.
A:Yes, Our technical department can help to analysis, design and test the new products you offered.
A:Experience engineer oversea installation service provided.
A:Yes.Before making your decision buying the equipment or not,you can bringsome material here to test-run the equipment.
TWO STAGE EXTRUDER MACHINE FOR SALE PLEASE CONTACT US NOW
TWO STAGE EXTRUDER INQUIRE